Advancement Ceremony 晉團儀式
Beaver Scout Swimming Up Ceremony
The Swimming Up Ceremony symbolized the Beaver Scout reaches the age of 7 & is ready to move onwards to his/her next level – Cub Scout.  The ceremony begins with the Beaver Scouts in the "River Band" formation while the Cub Scouts in the Pack circle.  A Beaver Scout leader will escort the white tail Beavers to swim up the "River" with the Cub Scout Leader welcoming them.  Sixers from the Cub Pack will bring the new members to greet the other Pack members.
小童軍晉團儀式
當小童軍年滿七歲時,將會參加晉團儀式成長成為幼童軍。在此儀式中,啡色和藍色尾巴的小童軍會築成「河堤」﹔而白尾巴之小童軍會在領袖帶領下越過「河流」與幼童軍領袖會合,再由幼童軍小隊長帶入小狼團中。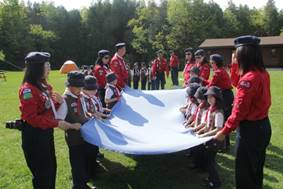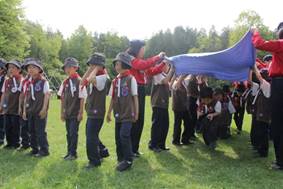 Blue & Brown Tail Beavers form a "River" for White Tail Beaver to swim up.
啡色和藍色尾巴的小童軍築成「河堤」讓白尾巴之小童軍越過「河流」。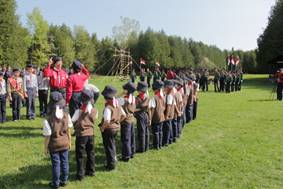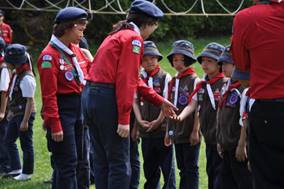 Cub Scout Leader welcomes the White Tail Beaver to the Cub Pack.
幼童軍領袖歡迎白尾巴之小童軍。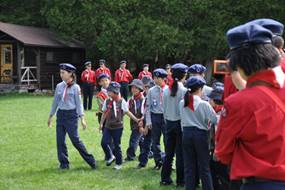 Sixers from the Cub Pack will slot in the new members to their color.
幼童軍小隊長會把新成員帶入其小隊中。
Cub Scouts Advancement Ceremony
Cub Scouts will advance to become a Scout when they are 10.  The Ceremony starts with the Pack forming a semi-circle while the Troop is in a horseshoe formation with some Troop's "Honor Guards" forming a bridge in between.  Cub Scouts will be introduced to the Troop Scouter with the companion of the Cub Scout Leader.  Scout Patrol Leaders will then merge the new members to their Horseshoe formation.
幼童軍晉團儀式
在幼童軍年滿十歲時,他們就會晉昇成為童軍。在晉團儀式中,所有幼童軍會圍成半圓圈、童軍團則形成馬蹄狀;童軍團的儀仗隊則在两隊中間築成橋樑以迎接新成員的加入。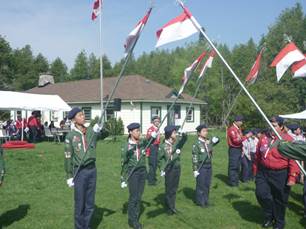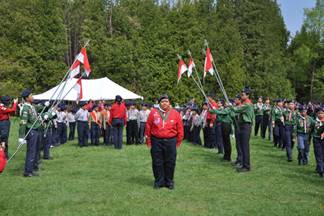 Honour Guards 儀仗隊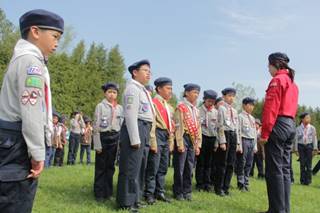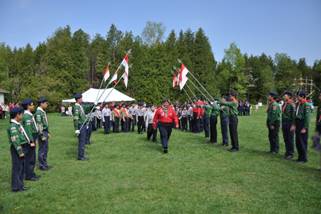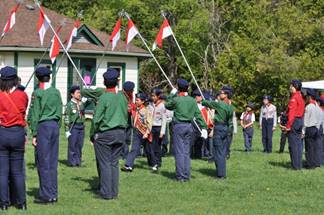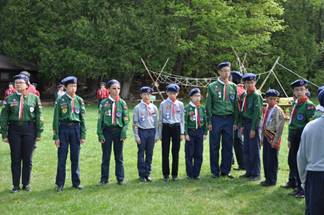 Scouts Advancement Ceremony
When Scouts reaches the age of 14, they will advance to be a Venturer Scouts.
童軍晉團儀式
滿 14 歲的童軍亦會越過儀仗隊所築成的橋樑晉昇成為深資童軍。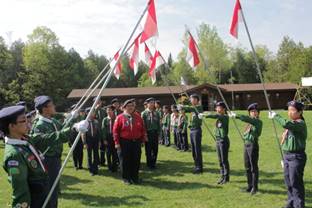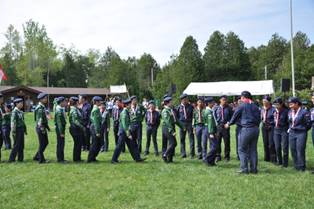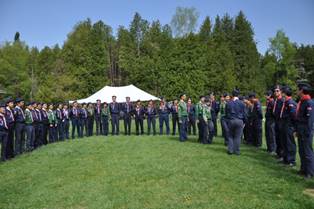 Venturer Scouts Advancement Ceremony
A Venturer Scout will grow to be a Rover Scout when they reach the age of 18 & will subsequently select to serve at different sections of the Scout Group.
深資童軍晉團儀式
深資童軍於年滿 18 歲時晉昇成為樂行童軍,隨後並會選擇服務於不同的支部。