Our History
---
Our Group is the first Chinese Community Scout Group in Ontario. It was established in 1990, when a group of experienced leaders including Louis Tam, Joe Ho, William Ng, Eric Tam and Stephen Yiu who emigrated from Hong Kong came together to form it for youth of Chinese descend.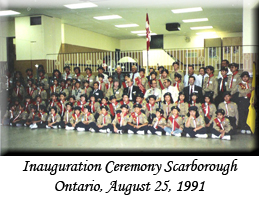 The vision is to help maintain and promote Chinese culture amongst immigrant children with the use of an integrated Scouts Canada and Hong Kong Scouts Association training methodology. These include, for example, the wearing of complete uniform when attending regular meetings, foot drills and co-ed scouting. At that time Scouts Canada offered co-ed training only in the Venturer and Rover Sections. We became the pilot of co-ed Scouting group in Canada. When we started operating in October 1990, we had 16 Cub Scouts and 12 Scouts. In August 1991, the Group received its Charter from Scouts Canada and was officially inaugurated on 25th August. By that time our membership had grown to 120 strong.
The Group continued to grow under the leadership of the founding leaders who also recruited many experienced leaders emigrated from Hong Kong. The Venture Company was inaugurated in 1992, followed by the Beaver Colony in 1993, and Rover Crew in 1995.
Our youth have taken part in many joint activities and competitions with other scout groups. They have been very active in supporting our community by providing many hours of services under the banner of our Group. Many of them have achieved the highest award in their respective sections, i.e. Six-Star Award in the Cub Pack, Chief Scout's Award in the Scout Troop, the Queen's Venturer Award in the Venturer Company, and the Rambler Badge in the Rover Crew. In addition, we encouraged our older youth to work on the Duke of Edinburgh Award at various levels.
Two of our members Eric Choy and Brian Tang (foreground in the adjacent picture) received this Award from its Founder, His Royal Highness, the Duke of Edinburgh, during whose visit to Toronto in 1997.
In these years not only have we encouraged our leaders to take part in Leaders Training Programmes, some of our leaders have taken part in providing training to leaders to support Scouts Canada endeavour to continue to train and develop new leaders.
We will continue to encourage our youth members to achieve the highest possible awards and take up new challenges by becoming front line leaders. Our Rover Crew and Venture Company have expanded to become one of the largest in the Greater Toronto Area. These youth members will become our successors in the Scouting Movement.